AaroniaUSA Announces New Drone Detector
History sometimes repeats itself. On July 28th 1945, a B-25 Mitchell twin-engined bomber crashed into the 79th and 80th floors of the Empire State Building in New York. On February 4th 2016, the same skyscraper received a second aircraft hit when an unmanned aerial vehicle (UAV) crashed into the building's 40th floor. In the first case, a US Army Air Corps pilot had become lost while flying in thick fog. In the second incident, a private citizen lost control of the UAV he was flying, and later went to the Empire State Building in the hope of reclaiming it. No one was hurt, but the UAV operator later pleaded guilty to a charge of disorderly conduct.
It was one of around 600 drone incidents that have been recorded by the US Federal Aviation Administration (FAA) over the previous six months. Civilian-operated UAVs are a problem that is getting worse- on April 17th 2016, a British Airways Airbus A320 making it's final approach to London's Heathrow Airport was reported to have struck a UAV. Two months earlier, an A320 that had just departed from Heathrow Airport had a near collision with a UAV. An official report later stated: "The entire event asted no more than three or four seconds, making any evasive action virtually impossible."
That statement summarizes a major problem- how do you swiftly and reliably detect a flying object so small that it has minimal radar signature? A solution is urgently needed.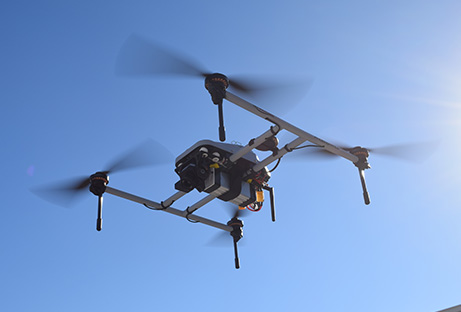 The Pheonix ACE LE Pro from UAV Solutions
Click here to view the entire Drone Detector article with photos